¡Bienvenidos!
The Playa Jibacoa resort is located along the northern coast and in the heart of the beautiful Cuban countryside, about halfway between the popular tourist destination of Varadero and the capital city of Havana; see our Location & Maps page for more info. The resort area is nestled along a nice beach backed by lush green hills, making it a good destination for nature lovers, and people who want to discover the Cuban rural life. Its proximity to Havana makes it also a popular location for people looking for easy access to the capital city. Visit our Attractions & Activities and our Tours & Excursions sections for more information.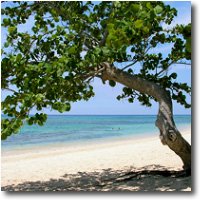 Jibacoa is also one of the best Cuban destinations for diving and snorkeling. There's an impressive coral reef located just a few meters from shore, making it possible to go snorkeling directly from the beach without having to take a boat or pay for an excursion. The hotels also have a dive center on-site with a boat departing right in front of the resort, no transfers required, no time wasted. You can even scuba dive directly from the beach.
We first discovered Jibacoa in 2005 and have returned numerous times since then. We like the natural setting and relaxed atmosphere of this small destination, and also being able to snorkel freely for hours to explore the beautiful and diverse marine world. It's by far our favorite Cuban snorkeling spot because of the easy access to a huge reef, Holguin is another nice alternative for shore snorkeling but with smaller coral heads scattered about. Santa Lucia and the Cayos (Cayo Largo /Coco /Guillermo/SantaMaria, etc.) also offer fantastic diving and snorkeling but the nice reefs are accessible only by boat.
We always stayed at hotel Breezes Jibacoa which has now become the Memories Jibacoa. This is a nice adult-only 4-star resort. We also visited its neighbor, the Villa Jibacoa (aka Villa Tropico) which is a 3-star resort with a cozy and friendly atmosphere. Nearby there is also the Villa Loma, a group of houses for rent.
Since the Cuban reforms on privately owned businesses, we noticed that many small B&B, family restaurants (paladar), and quaint bars have sprung up around the hotel zone, especially since 2012. The local farms also offer horseback riding. Private taxis (most of them Classic 50's cars, aka Maquina or Yank Tank) offer trip and private tours to Havana or Varadero. These little businesses are now legal, do not worry! We really appreciate these new opportunities to experience the Cuban flavor and ingenuity! Don't hesitate to bring small gifts when visiting a local farm or for villagers met on the beach, this gesture is truly appreciated!
We hope that browsing our website will make you want to go to Jibacoa! Enjoy your visit!
---

Note that since the spring 2014, Cuban Immigration systematically stamps all passports when entering and leaving the country. And also: Since May 1, 2015, the Cuban Departure Tax is no longer paid at destination. It should now be included in the price of your trip when buying a flight-only or vacation package to Cuba.

In October 2013, the Cuban government announced its intention to eliminate the dual currency system, unique in the world. The Cuban peso (CUP) would become the official currency and the convertible peso (CUC) would be phased out. No official timetable has been announced, although Raul Castro is firmly committed to implementing this economic project as soon as possible. More information to come.
Lily & Normand
© jibacoacuba.net
© destilino.com