How to get to Jibacoa - BY AIR
The closest international airports from the Jibacoa beach-resort are: the "Aeropuerto Juan Gualberto Gomez" a.k.a. Varadero International Airport (IATA code: VRA) and the "Aeropuerto Jose Marti" a.k.a. Havana International Airport (IATA code: HAV).
Addresses of these airports:
Varadero: Ave Martires de Barbados Km 5, Carbonera, Matanzas, Cuba
Havana: Avenida Van Troi, Boyeros, La Habana, Cuba
Distances:
Varadero International Airport to Jibacoa resorts: 56 to 60 km (35-36 mi) / 55-60 minutes
Havana International Airport to Jibacoa resorts: 79 to 82 km (50-51 mi) / 70-75 minutes
Here are the GROUND TRANSPORTATION options to travel from the airport to Jibacoa hotels:
1. Chartered bus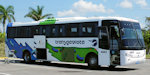 Most tourists traveling to Jibacoa already have the transfers pre-arranged by a tour operator and included in their vacation package. If it's your case, then when you exit the terminal you will be greeted by your Tour Operator representative who will show you which shuttle bus to board for the transfer to your hotel.
2. Taxi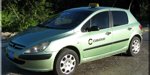 You can find them in front of the Terminal building.
A ride from the Varadero airport to the Jibacoa resorts should costs around 50 CUC one-way, and from the Havana Airport it's approximately 70 CUC one-way. Always agree the fare with the driver first.
3. Public Transportation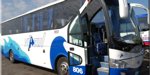 There's a Viazul Bus Station in the Varadero airport, but Matanzas City is the closest you can get to Jibacoa with Viazul, a taxi ride from Matanzas to Jibacoa should cost around 10-15 CUC. There's no Viazul station at the Havana airport, there's one in the Vedado district of Havana City (approximately 15 km from the airport).
4. Car rental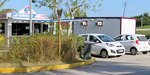 Cubacar, Rex Rent-a-Car, Havanautos, and Via Rent-a-Car Transgaviota.
Booking in advance is recommended, especially during the high season when the demand for rental cars often exceeds the supply. Prices vary from approximately 50 CUC to 125 CUC per day depending on car category and time of year.  Insurance is mandatory and usually costs 15 CUC per day. For more information please visit our car rental page.
---
Other ways to get to Jibacoa: Public Bus | By Car | By Train | Hitchhiking
Lily & Normand
© jibacoacuba.net
© destilino.com